Your recruitment agency's customers do not directly employ temporary candidates or contractors and have no responsibility for payroll.
Your customers are only liable for the invoices you supply.
Those customers may take several months to clear invoices related to your temporary worker's wages. So, how can your recruitment agency finance payroll when you need customers to settle their invoices first?
Recruitment Factoring Solves More Than One Problem
Recruitment factoring takes care of everything apart from manage your client relationship and win new contracts.
Recruitment factoring is a one-stop solution for growing agencies. Here's how recruitment factoring works.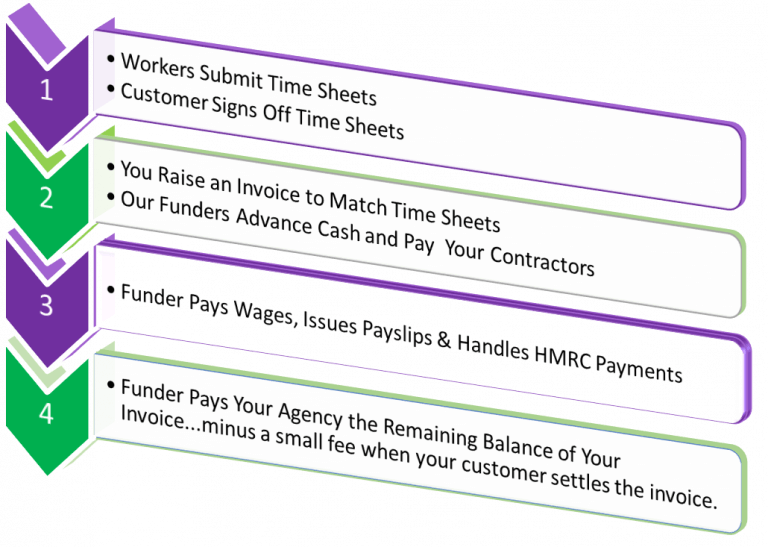 You also have an option when using full back office where staff can submit time sheets via an online portal to streamline your processes even further. Ask us about full recruitment factoring and all of its benefits. Alternatively, call 0333 772 1558.
Don't Need Back Office and Payroll For your Recruitment Factoring? – We Can Help
Here's what a standard invoice finance process looks like along with some great benefits
Invoice finance is a quick and cost effective solution to bridging this gap in cash flow. This service allows you to outsource a collection of outstanding invoices to a chosen funder. The funder may release up to 90% of your total invoice value within 24 hours, so you have instant access to cash. It is then up to them to collect payment from your customers.
Here is a quick breakdown of how it all works:
Invoice your customer
Send the details to your chosen funder
Funder releases up to 90% of your total invoice value within 24 hours
Funder manages credit control/collection from your customer
Customer settles full amount of invoice
Funder releases the remaining value of your invoice minus agreed fees
This offers a low-risk source of finance where you borrow against your sales ledger. Therefore, you do not borrow what your agency cannot afford and finance will grow with your business. You will not have to wait for payments from customers before moving on to the next project.
Benefits of Invoice Financing
There are many benefits to this process, aside from it being extremely cost effective. First and foremost, you will benefit from specialist credit control and finance knowledge that your funder can provide. So you needn't worry about accounts receivable, just concentrate on what you do best and increasing sales. Other advantages include:
Enhanced cash flow
Immediate cash injection
Consistent flow of working capital
Save money and time
Access money to purchase supplies in greater quantities and outsource at a lower cost
What's more, there is no need for your business to have perfect credit history. As your finance is borrowed against your sales ledger, credit history is not as relevant as with other financing options. Unlike other finance options, your funder will only require the ability to understand your sales ledger to secure a deal with you.
What Can You Save?
If you do not have an accounts receivable department already in place then there is no need to employ one either. You can use your funder's own credit control division to chase payments and handle communications with your customers. This removes recruitment costs and ongoing staffing costs. Credit checking, stationery, postage charges and phone calls all costs money and will affect your bottom line.
Invoice financing removes all of the above costs and allows you to maintain a good reputation within your industry.
With almost instant access to your cash and improved bank balances, you never have to turn down another job or project opportunity again. Use invoice financing so that your recruitment agency can finance payroll and you can avoid paying charges typically associated with having a business account in arrears. Contact Simply Factoring Brokers today on 0333 772 1558 for more information.
Want to know what finance is available for your recruitment agency?