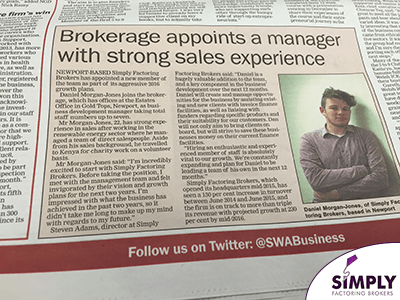 Welcome New Factoring Broker
This week take a look at our latest press coverage as Daniel Morgan-Jones joins the business as our new factoring broker with his sights set high.
As we expand our team, our newest member of staff, Dan, has provided some welcome new blood in the brokerage. With a strong sales background, Dan's definitely one to watch and has already proven a great addition to our team. Take a look at the latest feature below on his appointment from the South Wales Argus.
New Factoring Broker Dreams of Success
Dan on his new role: "I'm incredibly excited to start with Simply Factoring Brokers. Before taking the position, I met with the management team and felt invigorated by their vision and growth plans for the next two years. I'm impressed with what the business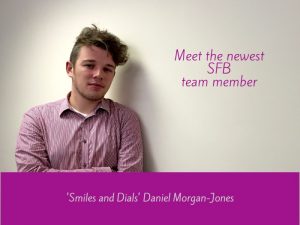 has achieved in the past two years, so it didn't take me long to make up my mind with regards to my future."
Steven Adams, director at Simply Factoring Brokers said: "Daniel is a hugely valuable addition to the team, and a key component in the business' development over the next 12 months. Daniel will create and manage opportunities for the business by assisting existing and new clients with invoice finance facilities, as well as liaising with funders regarding specific products and their suitability for our customers. Dan will not only aim to bring clients on board, but will strive to save these businesses money on their current finance facilities.
"Hiring an enthusiastic and experienced member of staff is absolutely vital to our growth. We're constantly expanding and plan for Daniel to be leading a team of his own in the next 12 months."
After we opened our headquarters mid-2015 in Newport, we've seen a 130 per cent increase in turnover between June 2014 and June 2015, and the firm is on track to more than triple its revenue with projected growth at 230 per cent by mid-2016.
Take a look at the full article available here.