Business Cashflow to Finance Your Festivities
When you're planning for the festive season, business cashflow is the last thing you want to think about! For small business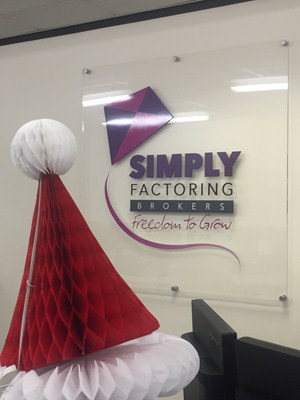 owners it can be one of the most difficult times of the year. Try to avoid these cashflow pitfalls so Santa brings you a big sack full of gifts!
Late Payments Affect Business Cashflow
If you're operating on 30, 60 or 90 day invoices, December is the time where some of your debtors will be avoiding you like the plague! Their accounts departments are away, payment runs might not be until January and a whole host of other reasons can mean you get very late payments through this month.
Quick fix? If you don't already have one, employ an invoice factoring facility which pays out up to 90% of your invoice as soon as it is generated! This way you can enjoy your mulled wine in peace, safe in the knowledge that your accounts are looking healthy without you frantically calling your debtors.
Slow Sales
When your buyers are slowing down for Christmas or on holiday a lot over the festive season, December often proves a hard time to sell sell sell! For businesses such as training companies or industries other than nightlife and retail, this can be a really quiet patch because there are fewer working days in the month and customers sometimes can't commit until January.
Quick Fix: Know where you stand with business loans and credit cards. Plenty of alternative flexible services are available to dip in and out of to cover your costs.
Weather
Will it be a white Christmas? Hopefully not for Haulage or freight industries! Haulage firms suffer rocketing costs for managing their fleets over the winter season. Vehicle maintainence and risks of hazardous road conditions mean transport can really suffer!
Quick Fix: We have specialist funders here at SFB who can provide a revolving credit facility to keep businesses on the road! We also source conventional facilities that include a specialised fuel card service, allowing you to cover the cost of keeping your fleet operating without the worry of everyday fuel costs.
Early Payroll
It's only fair that at this time of year you give your staff some love and ensure they have their payslip in time for some bargains in the shops. However bringing staff wages forward just by a few days can really make a difference to the amount of cash in your account left for Santa!
Quick Fix: Weigh up whether your overdraft is working hard enough for you – and whether it's giving you a decent rate or not when you dip in and out! Take a look at our blog here comparing overdrafts with factoring.
Extra Costs
Christmas parties, Networking events, Christmas bonuses and ramping up your client or staff care with Christmas Cards and gifts all add up after a while! Even decorating your office needs to be taken into account! Everyone enjoys a drink at the Christmas party, so how do you avoid looking like Ebeneezer Scrooge this year?
Quick Fix: Make sure you plan (and budget) ahead of time for any Christmas extras. Your staff will thank you for it with boosted morale and output (as well as some January gossip). Weigh up what you're spending on that company credit card too and see if a small business loan or funding could be a better alternative!