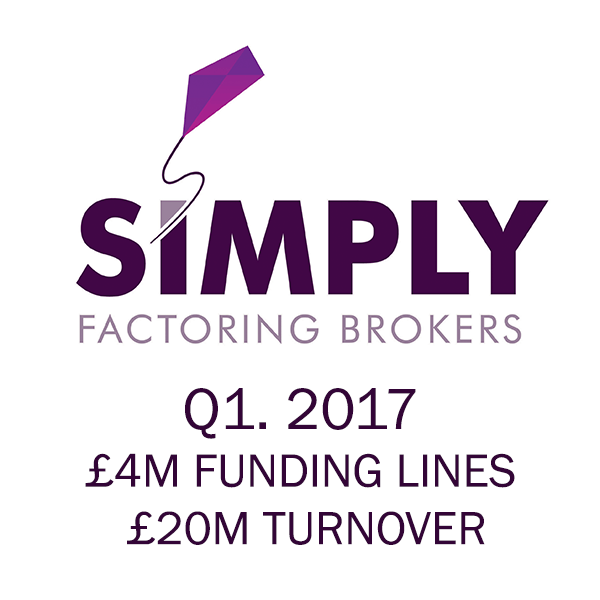 We've had an amazing first quarter of 2017 despite a slow start to the year.
After a quieter than usual January, our hard work on behalf of clients began to pay off.
I spoke with our MD, Steven Adams to discuss our figures for the year-to-date and Steven was overjoyed at the performance of sales team.
Steven said…
We pride ourselves by doing the right thing for the customer and finding them the right solution. Clearly we are helping our customers and growing our business at the same time by placing nearly £4 million pounds in funding lines in the first quarter or this year. £3.85 million to be exact and just over £20m worth of turnover to our funding partners.
New Year, New Tech, New Enthusiasm!
There were a number of changes at Simply Factoring Brokers, which were instrumental to the our new found success. A new internal structure coincided with a technology overhaul that makes it easier to track and interact with customers from first point of contact, through to securing an invoice finance facility.
Focus on Existing Business
Aside from the new business that produced the numbers quoted above, we looked at business we had previously worked hard to secure.
Revisiting existing customers proved to be another key revenue stream as many have grown, which enables them to review their invoice finance agreements and negotiate enhanced terms. With our help, a large number of our customers were able to both save on their current fees and extend their funding lines.
When reviewing an invoice finance facility there are elements that help us decide where we can help our customers most:
Funding Line- Are you getting all the cashflow your business needs?
Fees – Can you secure a better fee structure since you last secured invoice finance?
Concentration Limits – Can your number of customers be taken into context with a successful period of trading?
Debtor Limits – Can your debtor limits with certain customers benefit from a raise?
As a result of our invoice finance reviews, we saved our customers thousands in finance fees, released more cash to them, increased their funding lines, concentration limits, debtor limits etc. We truly are doing the best thing for the customer and things have never looked better at SFB.
Forecasting the Rest of 2017
Things are really looking up for SFB thanks to our new marketing initiatives. We are now less constrained in our products offering and have secured new agreements with a large number of top-tier lenders for complementary products. In addition to Invoice finance, we now secure the best deals on the following products for customers:
Bad debt protection
Payroll
Business Loans
Asset Finance
Development Finance
Commercial Mortgages
The new range of products will dramatically increase our revenue for the rest of the year and it has already seen us bring on a new staff member to help cope with demand.
Our new direction is not an indication that the market has a limit. Despite all the negative media regarding Brexit & the UKs economy. We constantly come across customers who are winning new contracts and need to change their funders to a more suited facility or even just to save some money against what they were previously paying, like they say it's easier to save money than make it.
Whatever your reason for looking into Invoice Finance, give us a ring and speak to one of our friendly members of staff who will be able to help you.